Low conductivity factor
Conductivity factor is a very important index to measure the heat-insulation effect of the heat-preservation material .The lower the conductivity factor is, the better the heat-insulation performance will be. Conductivity factor of this material is 0.034w/m• k at average temperature 0 ℃ . As this product has high surface heat liberation rate, using the product with thinner thickness can get the same heatpreservation result as the traditional heat-preservation material at the same environmental conditions.
Good fire-blocking
According to fie-proof regulations of building design and fie-proof regulations of higher living building, the heat-preservation material used in piping and equipment should adopt the fie-blocking or non-combustion materials. This material contains a lot of fie-blocking and smoking-reducing raw materials. The smoking concentration generated from fire is very low. It shall not be melted when touched with fire and no any burning balls will be fallen down. The material has self-extinguishing characteristic. The specification of Huamei class 1 product is better than the national standard which used for burning products of construction filds. The burning performance of the product is not lower than C grade according to GB8624-2012 classifiation for burning behavior of building materials and products,ensuring safe and reliable
Closed pore foaming , good damp-proof property
Huamei Rubber Foam Insulation owes perfect aperture-closing foam structure, all apertures are independent each other. The nonconnected air bubble forms the closed air layer that can enhance the heat-insulation performance efficiently, meanwhile the independent aperture-closing structure of can form much hindrance to moisture, even if the surface of the material was damaged, It also can prevent the water vapor into the inner material, so that maintaining the long-term steady of the heat-insulation effect at the same condition; the conductivity factor of water is 24 times higher than air' s, while the non-aperture-closing structure is in reverse.
Vibration resistance
Huamei Brand Rubber Plastic Heat-Insulating & Heat-preservation Material has high elasticity, can reduce the vibration and resonate of the hot/cold water pipes in use in the largest degree.
Good pliability
Huamei Brand Rubber Foam insulation materials have good flexibility and tenacity which makes it easy to handle bent and irregular pipe in construction, saving both labor and material.
Beautiful appearance, easy to install
Because of the good softness, this product is easy to be installed.Tube Installing: The tubes can be installed after assembling or cut up them longitudinally and bind them with glue. With completed parts such as valve, three-way connection and elbow pipe, cut sheet material up and wrap those completed parts with the cut plate according to different shapes and then bind them together. That installing method guarantees the tightterial has smooth and straight surface as that of rubber and excellent performances, it is not needed to insert sealing layer or prevention layer, reducing the trouble in the construction and also guarantee that the installed appearance is beautiful and smooth. During the time of maintenance of equipment and pipe, the rest cut out from the material can be reused, which has the same performance.
Other advantages
Huamei Rubber Foam insulation Heat-Insulating & Heat-preservation Material can be used safely. Our products neither stimulate the skin nor harm health. The product can prevent mould from growing. They have excellent performance of acid-resisting and alkaliresisting. Because of those excellent performances, Huamei Rubber Foam insulation Heat-Insulating & Heat-preservation Material has become as an ideal heat-insulating material to protect pipe and tubes against environmental corrosion.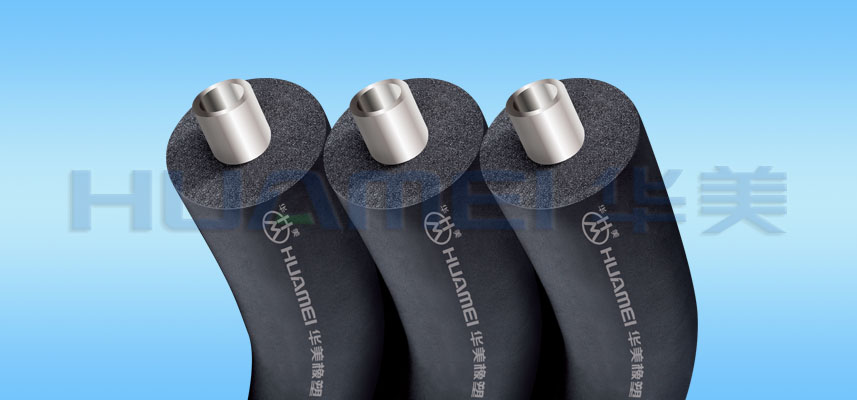 Class 1 rubber foam pipe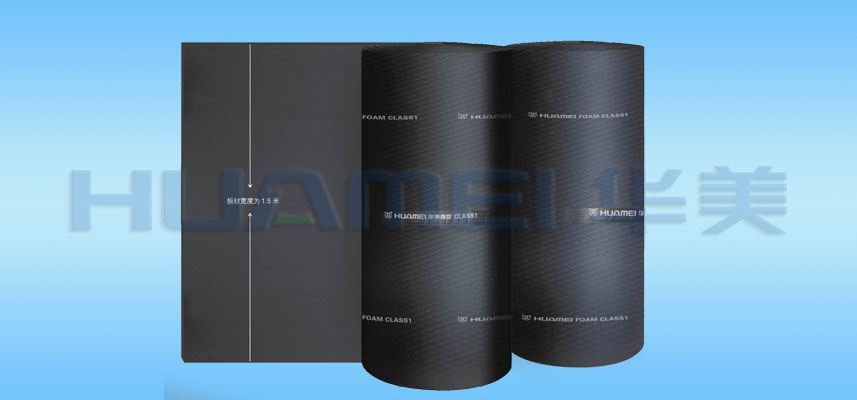 Class 1 rubber foam sheet
Item

Unit
Specification
Standard
Density
Kg/m3
≤95
GB/T 6343
Flammability
B1
Oxygen index
%
≥32
GB/T 2406
SDR
——
≤75
GB/T 8627


Material should be better than grade C when using in building fields.


GB8624-2012
Conductivity factor
Average temperature
-20℃
0℃
40℃
W/(m•k)
≤0.031
≤0.034
≤0.036
GB/T 10294
Water vapor permeability
oefficicent
g/(m•s•pa)
≤2.8×10-11
GB/T 17146-1997
Factor
——
≥7.0×103
Water absorption ratio in vacuum
%
≤10
GB/T 17794-2008
Dimension stability
105±3℃, 7d
%
≤10
GB/T 8811
Crack resistance
N/cm
≥2.5
GB/T 10808
Compression resilience ratio
Compression ratio 50%
Compression time 72h
%
≥70
GB/T 6669-2001
Anti-ozone
Ozone pressure 202mpa 200h
——
Not cracking
GB/T 7762
Aging resistance 150h
——
Slightly crumpling , no cracks, no pin holes,not deforming
GB/T 16259
Temperature
℃
-40℃ —110℃
GB/T17794
Note: The quality indexes of grade B2 products are in accordance with Class Ⅱ, GB/T17794—2008Preformed Flexible Elastomeric cellular thermal insulation,used in the non-construction field .